Reduce the discomfort and difficulty of blood glucose testing. The ACCU-CHEK FastClix lancets are the only 1-click lancing system with a drum of 6 preloaded lancets. The
Lancets Accu Chek
manufactures feature 11 settings for depth for maximum comfort, and minimal side-to-side motion for less skin tearing, testing is easy.
Accu-Chek Fastclix Lancets Features:
1 click is all it takes
Proven to give less discomfort during use and overall easiest to use
Carefully manufactured, beveled 30-gauge lancets ensure smoother entry
Created for Accu-Chek FastClix Lancet Device
No lancets to see or touch
Faster, Safer, and Less Pain
Just load new lancet drum
Includes:
102 Sterile 30 gauge Accu-Chek Fastclix Lancets
Notes:
Accu-Chek Fastclix Lancets are intended to be used only with the Accu-Chek Fastclix Lancing Device only.
Manufactured by Roche Diagnostics (Accu-Chek)
The Following product has been added to your cart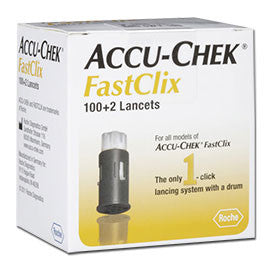 Reduce the discomfort and difficulty of blood glucose testing. The ACCU-CHEK FastClix lancets are the only 1-click lancing syst...