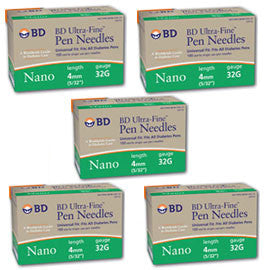 Bd Ultra-Fine Nano Pen Needle - 32 G 4 mm - BX 90 - Case of 5
The Becton Dickinson Ultra-Fine Nano Pen Needle is part of the Ultra-Fine family of
BD needles
, manufactured by Becton Dickinson, to fit all diabetes pens and dosers available commercially in the United States. No need to worry about attaching the correct needle to a particular pen anymore - with
BD Ultra Fine needles
one size fits all. This is very important, since more than a third of insulin pen users are known to use several different pens. These needles are technologically advanced compared to other needles and will deliver the most comfortable of injections, guaranteed - basically, you won't feel a thing. The BD Nano is the shortest, thinnest insulin pen needle on the market, measuring only 4mm (5/32 inch) in length with a gauge of 32. Compare that with the BD Original at 12.7mm (1/2 inch) and 29 gauge. You'll feel the difference, since you won't feel a thing. The Nano makes for a comfortable, straightforward injection requiring no pinching up of the skin prior to injecting.
BD Ultra Fine Pen Needles Features:
Thinner, shorter and much more comfortable
The comfort of the injection is guaranteed
Designed for universal fit, so will fit all dosers and pens sold in the U.S.
Allows for injection straight in
No pinch up of the skin needed
No need for longer needles - the Nano has been clinically proven to be just as effective in people of all sizes
Needle is so fine as to be barely perceptible
Includes:
5 cases of BD Ultra-Fine Nano Pen Needles 32g 4mm 90/bx
Notes:
Manufactured by Becton Dickinson
Compatible with Popular Insulin Pens Including:
BD Pen
FlexPen
InDuo
Humalog
InnoLet
Innovo
NovoPen Junior
NovoPen 3ml
Humulin Pen
And many more!
The Following product has been added to your cart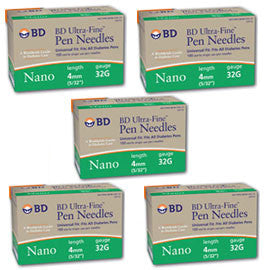 The Becton Dickinson Ultra-Fine Nano Pen Needle is part of the Ultra-Fine family of BD needles, manufactured by Becton Dickinso...